Free GP Care & Eligibility – Refer below
Please check out our information below as your may find the answer to your query.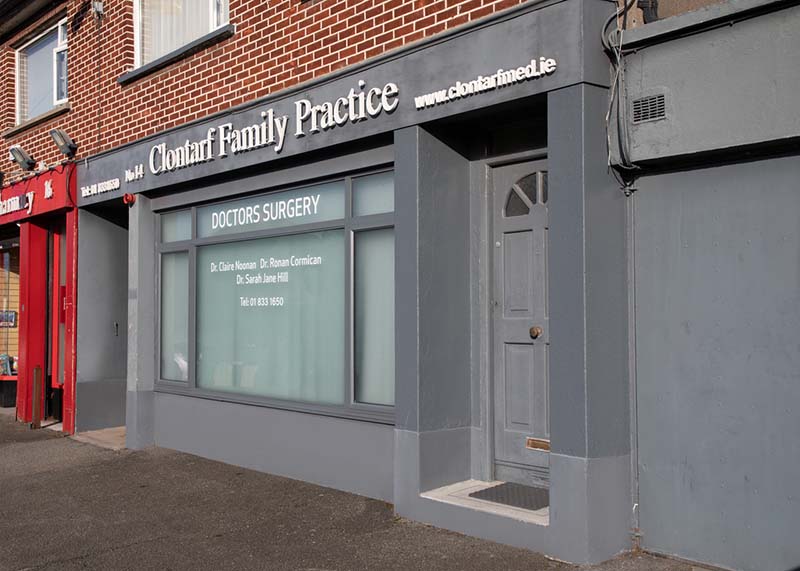 Expansion of Doctor Visit Cards

Free GP Care & Eligibility

The government recently announced the expansion of free GP care to all children under the age of 8 and to households earning below the median income threshold.
Registered Fairview Medical Centre patients (who do not currently have a Doctor Visit Card) can apply in the coming weeks refer to the dates below.
We are not accepting any new applicants who are not currently registered with the practice.
Once you have applied online, the HSE will follow up with issuing a Doctor Visit Card and you will be covered for free GP services once the card is issued.
Please understand as per the HSE, patients are only covered for free doctor consultations from the date the card is issued, otherwise the standard doctors consultation fee applies.  Therefore, it is important to apply as soon as applications open online.
Any queries or follow up to your online HSE Doctor Visit Card Application will need to be addressed directly with the HSE:  Tel:  0818 224478  Email:  

[email protected]
(1)   If your child is aged 6 or 7, you can apply online for a Doctor
Visit Card from the 11th of August 2023
It may help to have an account already setup in advance of this date, click on link below to get started:    https://www.mymedicalcard.ie/
(2)   If your household earns below the median income
(ie 47k per year after deductibles: e.g. mortgage, childcare) you can apply online for a Doctor Visit Card
It may help to have an account already setup in advance of this date, click on link below to get started:    https://www.mymedicalcard.ie/

Contacting the Surgery by Phone 
Our phone lines can be exceptionally busy, we have 4 lines open and 4 lines in the queue.  However, we appreciate it can be difficult to get through particularly during our peak periods.   For routine inquiries it is best to contact the surgery between

11:30 and 2pm

or

3:00 to 5pm when the lines are freer.  We accept emails for administration queries only to

[email protected]

.
We DO NOT accept any medical queries by emails or emails to return phone calls.    Thank you for your patients with this service.
Completion of Forms
Please allow a minimum of 7-10 working days for forms to be completed (please understand that during our peak periods this may take longer). Forms will not be completed during a medical consultation due to time constraints and the necessity to keep clinics running on schedule, as medical consultations will take precedence.  Fees applicable for forms not covered under the GMS/DVC/Dept SP etc, SMS will be issued with the relevant fees based on the form.   Forms can be dropped in to the letter box at reception hallway or can be emailed to [email protected]  with the relevant patient information completed in advance.
How to apply for Social Welfare Illness Benefit
1. If patient requires a Certificate of Incapacity (called MED1) for accessing illness benefit patient must have been seen by their GP first regarding this condition.   Tel 018339586 to book your appointment (this also applies to work certs). Your GP can then submit a cert via e-Certification facility or issue a hardcopy MED1.
2. Following MED1 submission and to receive payment for absence in work, patient must also complete Illness Benefit application (called IB1 form) and send it by Free Post to Social Welfare Services, Store Street, Dublin 1.
IB1 form this can be collected at reception after consultation. Alternatively, patient can order form by emailing [email protected] or contact Illness benefit office 1890 800 024 to request the form to be posted for free.
NB: Illness Benefit is not paid for first 3 days of the absence (for non-Covid 19 related conditions).
Please note: to receive Covid illness or Covid self-isolation certs, please email us copy of text message from HSE regarding antigen test results (HSE antigen kit results only) or PCR test results and e-Cert will be organised. Otherwise, please arrange the telephone consultation with GP.
From Saturday 30th April 2022 patients will NOT be able to upload the HSE text whilst applying online for Covid enhanced payment. They need to request MED1 cert from own GP (hard copy or e-Cert).
Online Illness Benefit facility available at www.mywelfare.ie is for covid 19 illness or covid self-isolation applications ONLY.
3. If patient provides relevant clinical documentation from hospital/clinic with condition stated and duration of the absence, does not require appointment with own GP to receive certification, this can be done based on the reports provided to the GP (by email or hand)
4. For repeat social welfare certs MED1 or MED2, and work certs, please email at [email protected] at least 48 hours in advance (working days) with your full details and dates and it will be organised for you.
Please note: GP might need to see you for review before issuing further certification.
Ongoing illness: When patient receives a letter from Department requesting less frequent certification (ie every 4 or 13 or 26 weeks), then need to provide you GP with a copy of such letter and ask to submit MED2 e-Cert or to issue hardcopy MED2.
5. Patients who  need a final cert or returned to work earlier than a social welfare cert was issued for, should  let GP know via email or email at [email protected] requesting closing  illness benefit claim (please provide full personal details, PPS number and Return to work date).
6. Patients with long-term illness, who applied for allowances or other benefits or retired, should let us know once they are granted with new payment (ie disability allowance, pension, etc) in order for the doctor to stop sending social welfare certs, unless patients have been advised by social welfare otherwise.
For more information regarding illness benefit and social welfare certs please use links below:
https://www.gov.ie/en/service/ddf6e3-illness-benefit/
How to apply for EU Digital COVID Certificate of Vaccination 
Please click on link below, please note we have no access to this ourselves, but HSE usually very quick to respond by email after submitting request.
https://www.covidcertificateportal.gov.ie/en-US/issue-vaccine-cert/
Clinic Hours
Mon-Friday 8:30am - 5.00pm
Location
14 Kincora Avenue, Clontarf, Dublin 3, D03 T2W2